SMAN460 : 4-Port Refrigerant Manifold with Vacuum micron sensor
CODE: SMAN460 - Superceded Model -Go to SM480VINT

SMAN460 - Wireless 4-Port Digital Manifold with Micron Gauge
Premium Digital Manifold - Vacuum equipped 4-Port Manifold with ATC1 clamps and Hood.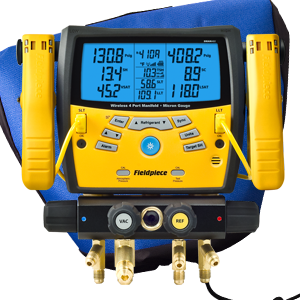 On Target with Live Measurements
Extra rugged design

Live real-time adjustments with wireless measurements

Micron vacuum gauge with alarms, stopwatch, and rate indicator

Large 3/8" full bore and VAC port

All measurements on screen at one time
The SMAN460 wireless four-port digital manifold is the top-of-the-line Fieldpiece manifold. It has more features and benefits than any other manifold on the market. With target superheat automatically calculated, simultaneous superheat and subcooling, all 9 measurements displayed on the large, easy-to-read screen, extra large 3/8' full bore and 4th VAC port, and wireless measurements for real-time system diagnosis and charging, the SMAN460 is the manifold HVACR pros trust to do more.
Coupled with the JL2 Job Link Mobile System Transmitter and the SDP2 Dual In-duct Psychrometer, you get all your readings in the Job LinkTM Mobile System App as well as pre- and post-work check lists, in-depth system diagnostics, report emailing, and cloud storage for all work completed.Plus it has a built in micron vacuum gauge with gives technicians the ability to set high and low alarms, a stopwatch as well as view the micron rate of change.
Units of Measurement: - Psig, kPa, MPa, bar, inHg, and cmHg
Measures: - 2 Pressures & 2 Temperatures
Calculates:
- Superheat
- Subcooling
- Target Superheat
- Vapor Saturation
- Liquid Saturation
Wireless Advantage
- Receive indoor wet bulb and outdoor dry bulb measurements for live target superheat (additional instruments required).
- Send measurements to Fieldpiece wireless system analyzers for diagnostics, data storage, and reporting.
Micron Alarms and Stopwatch
- Set high and low alarms (microns of mercury).
- Activate low alarm when you start pulling down. The stopwatch will start. When your low alarm sounds, the stopwatch will restart.
- Activate high alarm when you isolate the system and the stopwatch resets again. When the system rises to your high alarm, the stopwatch will freeze.
- Watch rate of change while pulling vacuum.
4 Ports for One Time Hookup
- Connect to high side, low side, vacuum pump, micron gauge, and recovery machine (or refrigerant tank). Then use the valves as needed to recover, evacuate and charge the system.
3/8" Vacuum Port
- The large 3/8" vacuum port and 3/8" full bore speeds up evacuation and charging.
Display Designed for HVAC-R
- Huge screen with the information you need.
- No more cycling through temperatures.
- Calculated and measured values all shown.
- Expanded temperature tolerances allow for testing in refrigerators and on rooftops.
- Rugged polycarbonate LCD cover.
- Bright backlight.
Temperature Solutions
- Pipe clamps grip tight for speed and accuracy.
- External cal. pots for easy field calibration.
Reliable Regardless of Elevation
- Absolute pressure sensors give you accurate readings at any elevation.
Lab Quality 2-Point Field Calibration
- Calibrate pressure sensors to the known pressure of your refrigerant tank at a known temperature for high accuracy over the entire pressure range.
And More
- Front facing hose seats limit dirt and grime entering your manifold.
- Sight glass to view refrigerant flow.
- 45 refrigerants listed in order of popularity.
- Receive free future product updates through Mini-USB port.

Auto-Power-Off (APO).

NIST traceable.

Wireless enabled for Logging, Tests & Target superheat capture.

USB port for updating firmware. [cable not included]
(SMAN460)
4-port Digital Manifold - SMAN460

Built-in Micron Gauge

2 Type-K Pipe Clamp Thermocouples - TC24

Padded Carrying Case - ANC10

6 AA Batteries
| | |
| --- | --- |
| SKU | SMAN460 |
| Model # | SMAN460 |
| Brand | Fieldpiece |
| Shipping Weight | 5.0000kg |
| Shipping Width | 0.350m |
| Shipping Height | 0.400m |
| Shipping Length | 0.150m |
| Shipping Cubic | 0.021000000m3 |
| Unit Of Measure | ea |
1 - Year from Date of Purchase
​Excludes Consumables such as Filters, Gaskets, Leads, Batteries, Fuses, Sensors, Case etc
Be The First To Review This Product!
Help other FIELDPIECE AUSTRALIA visitors by writing reviews for products you have used or purchased.
---
More From This Category