JL3KH6: Job Link Wireless Charge & Air Test Bluetooth Probe Kit
CODE: JL3KH6 - Beacon Wireless Technology 300 mtr range

JL3KH6 - Charge and Air Test Kit
Take a full system snapshot quickly and easily with Superior distance and +300 metre connectivity line of Sight!
That means you can see what your Air Handler or Evaporator is doing while your at the condensing unit ....
This kit consists of
2 x Pressure Probes for Discharge & Suction Pressure

2 x Pipe clamps for liquid line subcooling & suction line Superheat

2 x Psychrometers for obtaing Dry Bulb, Wet Bulb , Dew Point Temperatures & Relative Humidity [ RH%]

Contained in a quick access padded case.

All measurements can be sent up to 100metres away directly to your mobile device with the Job Link™ app.
Each tool is designed for agility and speed. The pressure probes fit into tight spaces. The pipe clamps use the new Rapid Rail™ sensor design delivering accuracy, speed, and agility, even on the most awkward pipe configurations. The psychrometers' flexible narrow probes and configurable magnet make it easy to measure supply plenums, ducts, and elevated registers.
Logging is activated..
Simply connect your probe to the Job Link App & follow the update procedure. Log multiple parameters at one time to get the right analysis of your system. To obtain a Superheat or Sub-Cool Log, add the refrigerant in the field provided after downloading your data from the JL3PR pressure Probe..... the Saturation Temperatures will show for your readings. Meld the table cells from your JL3PC Pipe Clamp Probe Log... either Suction or Liquid line & your superheat or subcooling values will be presented.
TIP... to obtain system kW Performance, use 2 x JL3RH probes for On coil & Off coil temperature measurement.. add the air flow & your live coil performance is captured... share the reading or tune accurately for an improved system function.
Use the JL3PC to test your delta T. across the filter drier.... Temperature differences over 1.0 degrees C need to be monitored for loss of system efficiency.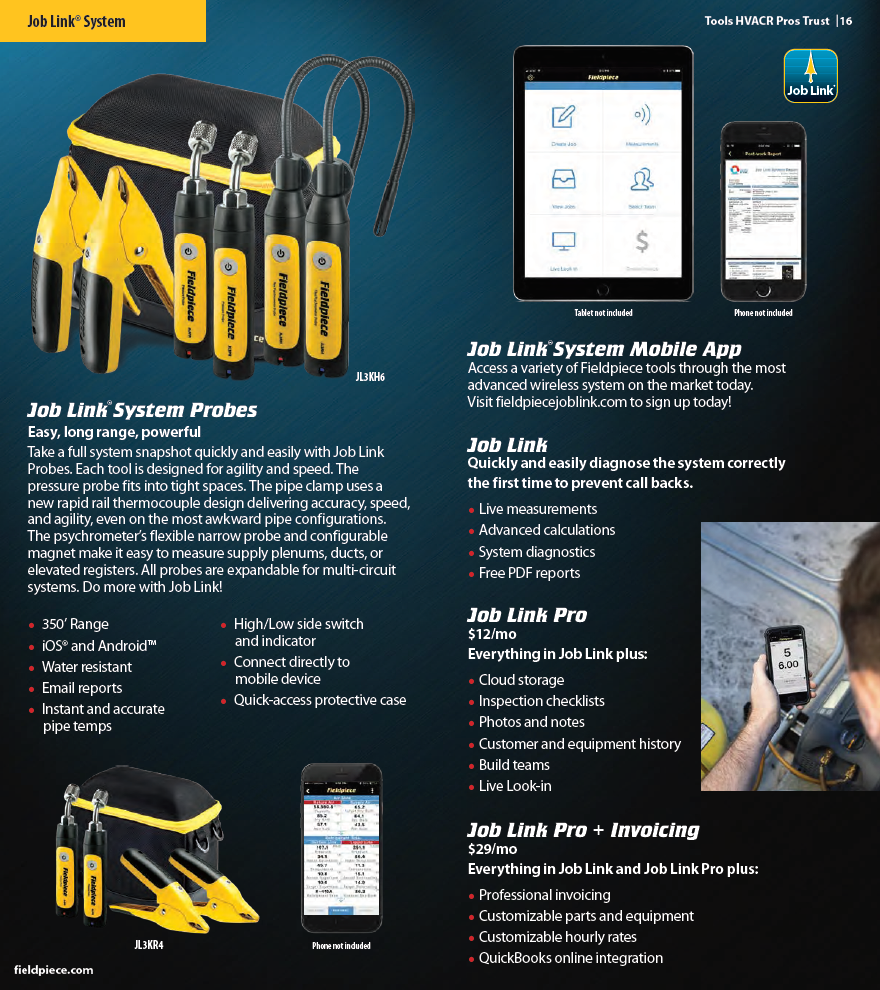 (JL3KH6)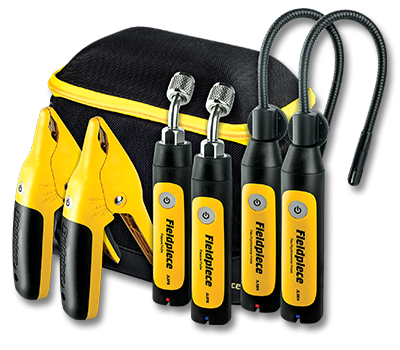 WHAT'S INCLUDED
2 x JL3PC Job Link Premium Pipe Clamp Probes

2 x JL3PR Job Link Pressure Probes

2 x JK3RH Flex Job Link Psychrometer Probes

ANC18 Protective Case

2 x AAA Batteries Per Probe (8 Total)
SPECIFICATIONS
Wireless Range: +300 metres
Wireless Frequency: 2.4 GHz
Battery: 2 x AAA (included)
Battery Life: 150 hrs typical alkaline
Auto Power Off (APO): 2 hrs (can be disabled)
Minimum Device Requirement: BLE 4.0 devices running iOS® 7.0 or AndroidTM 5.0
Job Link™ Pressure Probe - JL3PR
Connector Type: 45° Standard 1/4" NPT female flare
Best Accuracy: ±1 psig (±7 kPa)
Measurement Range: 0 to 580 psig (0 to 4000 kPa)
Maximum Overload: 800 psig (5500 kPa)
Water Resistant: Designed to IP55
Job Link™ Premium Pipe Clamp Probe - JL3PC
Pipe Compatibility: Electrically conductive 1/4" to 1 3/8" (6.4mm to 34.9mm) dia.
Accuracy: ±1°F (±0.6°C)
Measurement Range: -50°F to 257°F (-46°C to 125°C)
Stabilization Time: 3 seconds typical
Measurement Feedback: Beeper and LED
Water Resistant: Designed to IP55
Patent: Pending
Job Link™ Flex Psychrometer Probe - JL3RH
Flexible Probe: 0.36" (9mm) diameter, 9.25" (235mm) length
Best Accuracy: ±1°F (±0.6°C) ±2.5 %RH
Measurement Range: -4°F to 140°F (-20°C to 60°C) 0 %RH to 100 %RH
| | |
| --- | --- |
| SKU | JL3KH6 |
| Model # | JL3KH6 |
| Brand | Fieldpiece |
| Shipping Weight | 2.5000kg |
| Shipping Width | 0.300m |
| Shipping Height | 0.200m |
| Shipping Length | 0.300m |
| Shipping Cubic | 0.018000000m3 |
| Unit Of Measure | ea |
| Assembled Length | 0.300m |
| Assembled Height | 0.200m |
| Assembled Width | 0.300m |
1 - Year from Date of Purchase
​Excludes Consumables such as Filters, Gaskets, Leads, Batteries, Fuses, Sensors, Case etc
Be The First To Review This Product!
Help other FIELDPIECE AUSTRALIA visitors by writing reviews for products you have used or purchased.
---
More From This Category