JL3KM2 : Job Link Wireless Manometer Kit
CODE: JL3KM2-Beacon Bluetooth Technology 300 metre range

JL3KM2 - Job Link Bluetooth Manometers
Fieldpiece Australia provides one of the simplest & easy method to take measuremants for Static pressure & Gas pressure [ LPG ] by using the wirelss manometers via the Job link App.
Technicians can take inlet gas pressure, outlet gas pressure, and total external static pressure of a furnace with multiple probes hooked up and view them all at the same time in the Job Link® System App.
An indicator switch on the manometer automatically tells the Job Link System which side is being tested with the color-code switch (Blue is for P1 and Red is for P2).
View real-time return static, supply static, and total external static pressure all at once with just two probes. The system allows for up to eight individual manometers at one time in the Job Link App. This is helpful when measuring real-time pressure drops between blowers, filters, and coils with multiple probes (more than two readings up to eight will be available this summer). The results will display at the same time on the mobile device using Job Link® System App.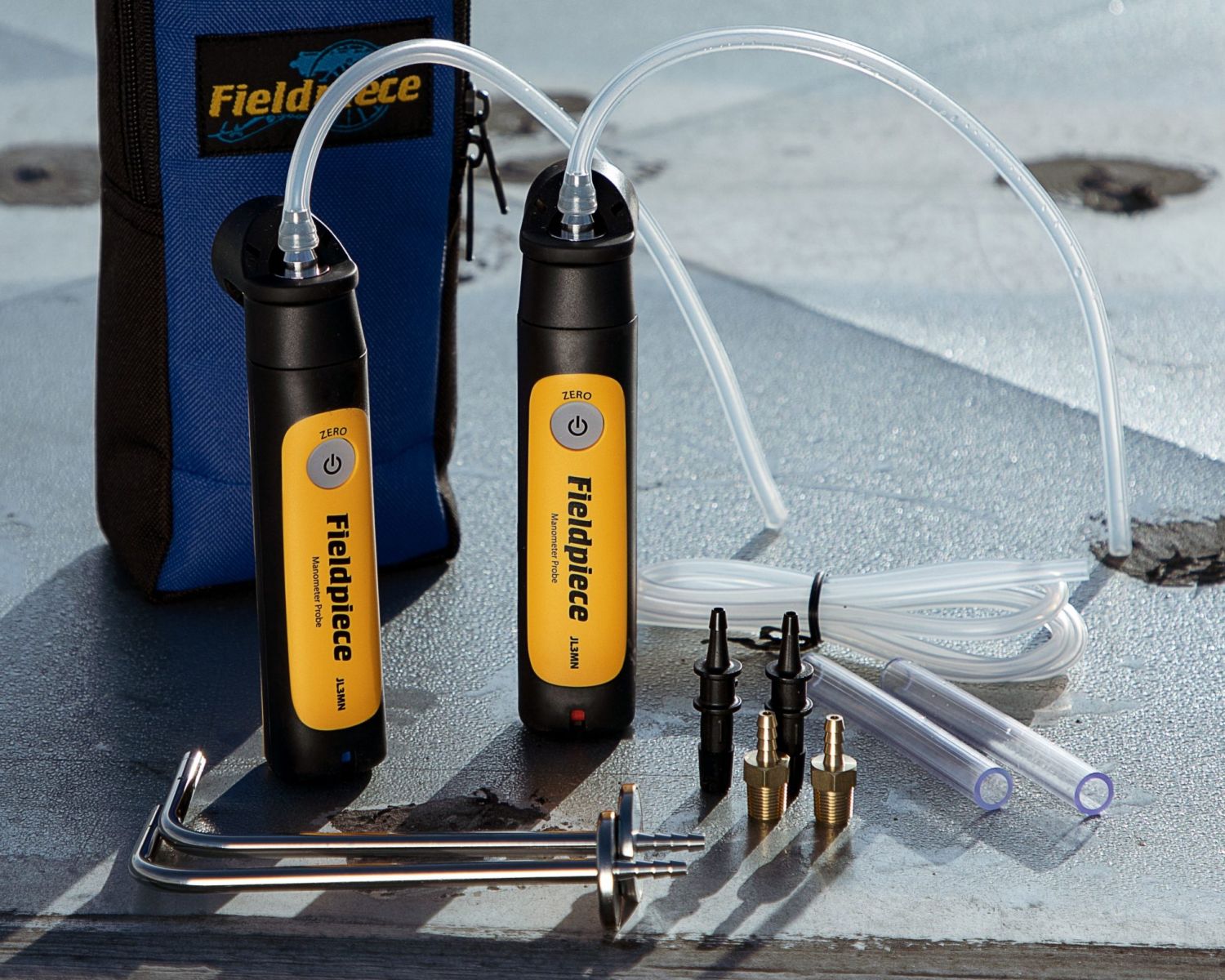 JL3KM2 Job Link Manometer Kit
Reliable pressure regardless of location

Long range wireless

All-in-one static, gas and draft pressure

Accurate and stable measurements

Individual pressure readouts

Find Inlet and Outlet gas pressures

Switchable P1 – P2 indicator

Job Link® System app compatible

Easy zero to atmosphere
Other features include a rugged housing; sturdy, rotating magnet to hold the manometer in place; gas adapter and static pressure accessory comes standard; and strong metal barb tips. In addition, the JL3MN measurements can be zeroed on the tool itself so there is no fumbling with the app.
The JL3MN is sold as a single pack and includes the JL3MN, slide-on Gas Adapter, extra hose with Brass Screw Fitting, and a Static Pressure Probe. The JL3KM2 is a double pack dual manometer and includes two JL3MNs, a case, two slide-on Gas Adapters, extra hose with two Brass Screw Fittings, and two Static Pressure Probes.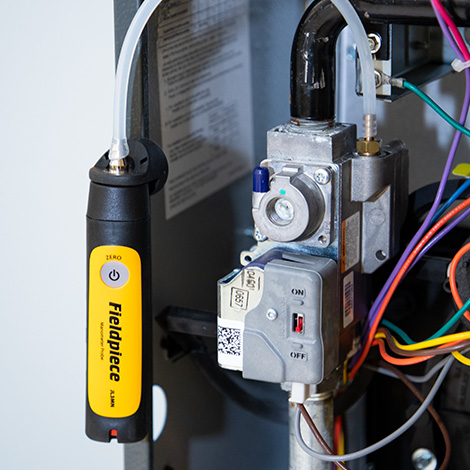 Having gas pressure problems...
....... Trend it with the JL3MN & send it to your customer!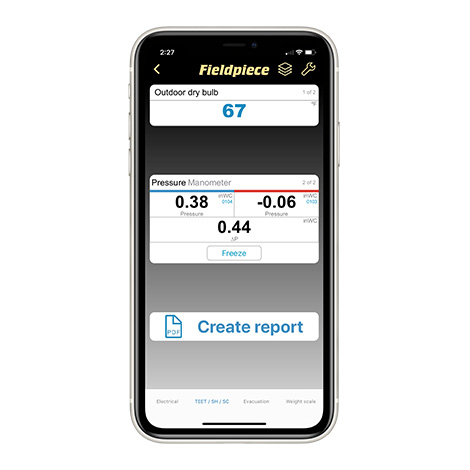 (JL3KM2)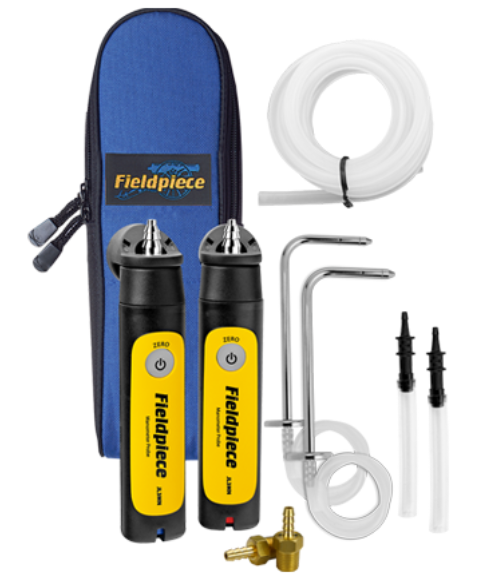 What's Included:
(2) JL3MN Manometer Probe

(2)ASP2 Static Pressure Probe and Hose

(2) Brass Screw Fitting with Extra Hose

(2) Slide Gas Adapter

(4) AAA Batteries

(1) Padded Case
Specifications
Minimum Device Requirement:BLE 4.0 devices running iOS® 7.0 or Android™ 5.0 (Latest compatibility at www.fieldpiece.com)

Compatible Media: Dry, non-corrosive gas

Pressure Port: Tube connector for flexible tubing (4.5 to 8mm ID)

Units of Measure: inWC, mmWC, mbar, psi, Pa

Accuracy and Ranges:
inWC: ±0.02 on 0.00 to ±2.00 (±1.5% FS on 2.00 to ±60.00);
mmWC: ±0.5 on 0.0 to ±51.0 (±1.5% FS on 51.0 to ±1500.0);
mbar: ±0.05 on 0.00 to ±5.00 (±1.5% FS on 5.00 to ±150.00);
psi: ±0.001 on 0.000 to ±0.072 (±1.5% FS on 0.072 to ±2.165);
Pa: ±5 on 0 to 498 (±1.5% FS on 498 to ±14930)

Maximum Overload Pressure: 321.08 inWC (11.6 psi; 80.0 kPa)

Battery Type: 2 x AAA, NEDA 24A, IEC LR03

Battery Life: 150 hours typical alkaline. LED slow-blinks red when battery replacement is needed.

Auto Power Off: 2 hours (APO can be disabled)

Wireless Range: 1000 feet (305 meters) line of sight. Obstructions affect distance.

Radio Frequency: 2.4 GHz

Operating Environment: -10°F to 122°F (-23°C to 50°C) at <75% RH

Storage Temperature: -10°F to 140°F (-23°C to 60°C) at <80% RH (with batteries removed)

Temperature Coefficient: 0.1 x (specified accuracy) per 1.8°F (-10°F to 64°F, 82°F to 122°F), per 1°C (-23°C to 18°C, 28°C to 50°C)

Weight: 0.30 lbs (137 g)
| | |
| --- | --- |
| SKU | JL3KM2 |
| Brand | Fieldpiece |
| Shipping Weight | 0.9000kg |
| Shipping Width | 0.150m |
| Shipping Height | 0.100m |
| Shipping Length | 0.350m |
| Shipping Cubic | 0.005250000m3 |
| Unit Of Measure | ea |
| Assembled Length | 0.350m |
| Assembled Height | 0.100m |
| Assembled Width | 0.150m |
1 - Year from Date of Purchase
​Excludes Consumables such as Filters, Gaskets, Leads, Batteries, Fuses, Sensors, Case etc
Be The First To Review This Product!
Help other FIELDPIECE AUSTRALIA visitors by writing reviews for products you have used or purchased.
---
More From This Category